7th Dragon III Code:VFD Visual Collection is an official art book drew by Shirow Miwa.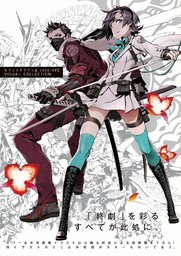 Oy, Unit 13! The visual collection that is waiting for you is finally coming!
A visual collection that can enjoy the visual of "7th Dragon III code: VFD" appeared! Illustrations such as player characters, NPC, etc., Many monsters and art setting materials are included with comments from each creator. Character design Shirow Miwa's rough sketch is also released at once. Also, posting direct hit interview with Mr. Shirow Miwa, the development staff, which makes the secret story clear, is posted! Cover & body cover adopts Shirow Miwa drawing drawing, Illustration of same illustration Double sided poster is also attached.
External links
Edit