Atsuki Tani is a Japanese seiyu and the voice of Professor Nagumo.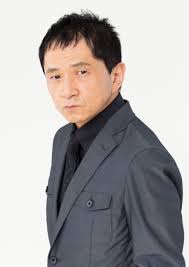 Information
Edit
Japanese Name: 谷 昌樹
Birthdate: January 22, 1959
Age: 58
7th Dragon Roles
Edit
Drama CDs:
7th Dragon III Code: VFD Drama CD:
Professor Nagumo
Non 7th Dragon Roles
Edit
Anime:
Cobra The Animation (TV) as Lucky Jack (eps 6-7)
Dragon Ball Super (TV) as Obuni
Fullmetal Alchemist: Brotherhood (TV) as Berthold Hawkeye
Gundam Reconguista in G (TV) as Lorucca Biskes (7 episodes)
Halo Legends (OAV) as Master Chief
Kekkaishi (TV) as Tessai Shishio (ep 31)
Lupin III: Missed by a Dollar (special)
Lupin the Third (TV 2015) as Moreno (ep 15)
Mahoromatic - Automatic Maiden (TV) as Town Councillor (ep 6)
Majin Bone (TV) as Stolz / Dark Phoenix
Naruto Shippūden (TV) as Tsuchigumo Chief
Ronja the Robber's Daughter (TV) as Borka
(The) Silver Guardian (TV) as Temujin
(The) Testament of Sister New Devil BURST (TV) as Madonis (eps 7-10)
Tweeny Witches (TV) as Jidan
Young Black Jack (TV) as Doctor (ep 3)
OVAs:
Mobile Suit Gundam Unicorn (2014) (Ablus)
VIdeo Games:
Halo (Japanese dub, 2002) (Master Chief)
God of War (Japanese dub, 2005) (Ares)
Ace Combat: Assault Horizon (Japanese dub, 2011) (Andrei Markov)
Time Travelers (2012) (Joji Nonaka)
Ad blocker interference detected!
Wikia is a free-to-use site that makes money from advertising. We have a modified experience for viewers using ad blockers

Wikia is not accessible if you've made further modifications. Remove the custom ad blocker rule(s) and the page will load as expected.