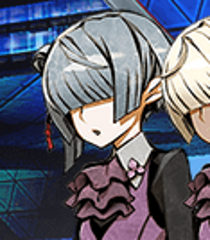 Chika is an NPC in 7th Dragon III Code: VFD. She is in charge of the construction and quests for Unit 13.
Information
Edit
Japanese Name: チカ
Age: Unknown
Gender: Female
Hair Color: Gray
Eye Color: N/A
Species: Dragonslayer
Status: Deceased (First world), Unknown (Rebuilt world)
Cause of Death: Killed by Unit 13 and Yuma
Japanese Seiyu: Ai Kayano
First Appearance: Chapter 0, Chapter 1 (Introduced)
Last Appearance: Chapter 6
Chapter 0
Edit
She is seen with Rika in the Conference Room, however, she is not introduced yet.
Chapter 1
Edit
Her and her sister, Rika, are introduced to Unit 13 by Nagamimi. Chika is the one in charge of giving Unit 13 quests and construction to do.
Chapter 6
Edit
The only major role Chika and Rika have is in Chapter 6. They are really reincarnations of Dragonslayers used to kill ND. Unit 13 hesitantly chooses to fight them. Chika and Rika are weakened from the fight, however, Unit 13 refuses to kill them. Yuma comes and finishes off the two, ripping their hearts out. Chika and Rika die and their Dragonslayers are revealed.
Chika is a dating candidate who gives you a dual sword weapon. In order to date her you must complete all quests (excluding DLCs) and get her ID from the bento she gives you in the dormitory. Like all the dating candidates, in order to acquire the 3rd date you must upgrade the Skylounge to level 3.
Additional Information
Edit
Her full name is Chika Tachibana
She is a reincarnation of a Dragonslayer