Nagiri is a supporting character in 7th Dragon III Code: VFD and a main character in the Drama CD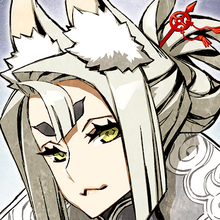 Information
Edit
Japanese Name: ナギリ (Nagiri)
Age: 19
Hair Color: Silver
Eye Color: Green
Species: Lucier
Occupation:
Waitress at the Lucier Cafe (formerly, Drama CD only)
Status: Deceased
Cause of Death: Dragon Sickness
Japanese Seiyu:
3DS: N/A
Drama CD: Masumi Asano
First Appearance: Chapter 4
Last Appearance: Nyadens Crisis!
Chapter 4
Edit
Nagiri appears in the guild hall, along with Brijilt, Sailas, and Emel. She also joins Unit 13, along with Sailas and Brijilt, when they go to find the High Dragon
Additional Information
Edit
Her page on the Visual Collection reveals her full name. Translated, her full name is Nagiri Nazuna.