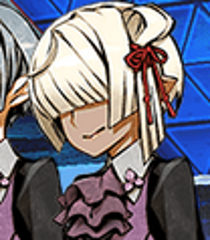 Rika is an NPC in 7th Dragon III Code: VFD. She is the one who sells the weapons, items, and equipment.
Information
Edit
Japanese Name: リッカ (Rikka)
Age: Unknown
Species: Dragonslayer
Gender: Female
Status: Deceased
Cause of Death: Killed by Unit 13 and Yuma
Japanese Seiyu: Asami Seto (瀬戸麻沙美)
First Appearance: Chapter 0, Chapter 1 (Introduced)
Last Appearance: Chapter 6
"Hai, hai! Nani suru?" (Translation: Yes, yes, what do you want?) Factory
"It's like hell for me!" Third Date
Additional Information
Edit
Rika's name is spelled "Rikka" in the Visual Collection
Her full name is Rika Tachibana
Ad blocker interference detected!
Wikia is a free-to-use site that makes money from advertising. We have a modified experience for viewers using ad blockers

Wikia is not accessible if you've made further modifications. Remove the custom ad blocker rule(s) and the page will load as expected.